Industries We Serve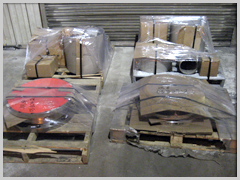 Aerospace

The aerospace industry requires some specialty alloys, which Metal Management Supply has reliable access to. Whether for commercial aviation, government defense or aerospace, we have the experience and the ability to be your supplier.
Chemical Processing

This industry requires corrosion resistant alloys and has strict performance demands upon the equipment used. Metal Management Supply has a diverse inventory of these corrosion resistant metals in various forms and is capable of supporting this special environment.
Oil & Gas

The oil and gas industry demands the materials used be high heat and high corrosion resistant. Refinery specific grades of alloys are used and Metal Management Supply has the knowledge to meet the expectations and requirements needed.
Power Generation

Metal Management Supply knows how important a planned repair shut down is. In any power generation application, from coal fired power plants, nuclear power plants to renewable energy applications, Metal Management Supply understands the materials required.
Water Piping Systems

Whether a site is a mill or a brewery, if you have your own water plant/piping system, Metal Management Supply knows that this chlorine rich environment will corrode pipes. Rely on the expertise and experience at Metal Management Supply to provide non-corrosive water piping systems.
Food & Dairy

Sanitation is the most important thing when working in the food and dairy industry. Metal Management Supply strictly adheres to all FDA & NSF guidelines.