Services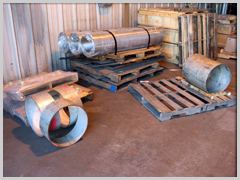 We pride ourselves on focusing on our client's needs, whether local, regional, or even international. Metal Management Supply focuses on timely deliveries, for standard as well as specialty grade metals. Our ability to be a one-source provider means we can take care of everything well beyond pipe and fittings, we can fulfill bar, sheet and plate etc.
Our company capabilities make your parts search a one-stop effort. We are uniquely positioned to fulfill your entire parts order, keeping the chaos of sourcing, pricing, and negotiating off your desk. We are your "one source" provider, taking care of everything so you can focus on what's important to you. Whether you require Nickel or Stainless Steel, or Titanium or Cobalt, we can help you!
We also offer stocking plans for those clients who have an ongoing and predictable parts need. We will work with you to determine your specific stocking and parts needs and design a stocking plan that is perfect for you. We specialize in JIT delivery as well! Our stocking plans help our clients plan work flow, cash flow and inventory control—call us today to see if a stocking plan is right for you!